Follow us...

Scandi Blogs

Wednesday, September 8, 2010
After showing the photo below
from Rikke's apartment by
Elisabeth Aarhus
, I got a lot of questions about the "thing" in the corner, the "kakelugn". The kakelugn was invented in 1767 by Carl Johan Cronstedt. Modern technology has yet to invent a more efficient wood burning stove.
"A kakelugn is a wood burning stove"
"It's not just beautiful on the outside – it's also energy efficient, with the highest effect on the wood burning stove market with a "burn rate" of over 90-98% ."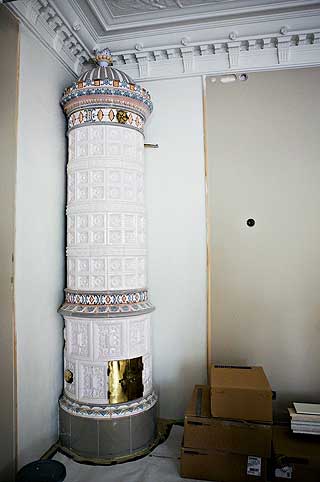 "It's built to last over 100 years…"
"Two hours of burning gives 24 hours of a long waved, comfortable heat"
"It comes in a large variety of formes and shapes…"
"Some are hand painted"
"Others are glossy white"
"But they're all equally stunning.."
"And like most Scandinavian design, it compliments both modern and traditional interiors"
"Only downside… It costs from $8 000 up.."
So what do you think?
Would you want this gorgeous
S
w
e
d
e
in your home?
I know I would :)
xoxo
Image
1
,
2
,
3,7-9
,
4
,
5
,
6
,
10
,
11
Labels:
Scandinavian Design